Introducing the Statement Earrings, this seasons must have!  Like the arm candy that dominated 2016, 2017 is all about the bling bling earrings, and the bigger, the better! With dangling jewels and sequins at Proenza Schouler's autumn/winter 2016 show and metallic, oversized pebbles at Celine, it's very much the bigger the better.
How to
So how should you wear your hair, loose, down or scraped up? The perfect way to wear your hair with a pretty and classic pair of dangling earrings is to give your hair the masculine side sweep which offsets this femininity look very well ( and my favourite kind of look!). Other designers such as Lanvin and Marchesa saw hair parted down the middle and pulled into a low romantic bun still showcasing those drop dead gorgeous earrings.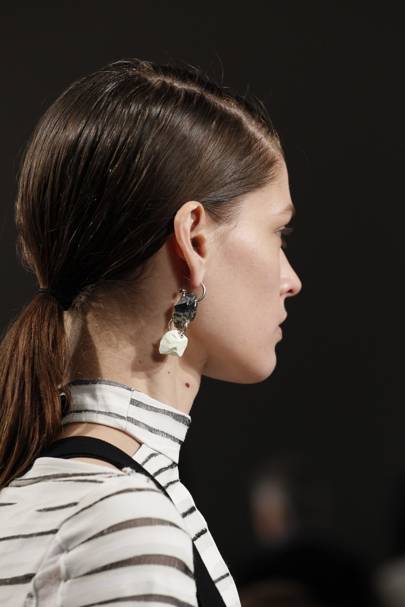 For me, I tried out a few different hair styles and think the side parted hair suited me better but for me any hair style will work as long you show the statement earrings in all their splendour!
Mango 
Keen to get on the trend? The highstreet is strong this season with lots of rhinestone and fun big gold hoops to take your outfit to the next level.

Mango in particular have the most beautiful pieces to satiate your earring thirst. I purchased some beautiful pieces from Mango that look far more expensive than they are!
These beautiful drop earrings from Mango (here) are too beautiful and I'm obsessing with how similar in style with the blush and mint details to the Elizabeth and Cole earrings they are, at a fraction of the price.
What do you guys think, will you be wearing the statement earrings this season?
Here's Hues of White round up  of the prettiest statement earrings at Mango to buy immediately!
5.Mint and Blush Drop Earrings