Whilst I have been going through my Instagram and Pinterest I have noticed a change in makeup as Spring approaches — colour is back: from glitter lips (which I'm actually excited to try) to colour bursts of pink and red lips. Nails were of nude and pink pallets this year at Rodarte with crystal detailing which was my favourite as it totally oozed femininity with romance.
Eyes
No colour was off limit at this year's shows. The bolder and brighter the better! Anna Sui models wore pink on their eyelids which was my favourite beauty look and I'm hoping with my skin colour being olive that I will be able to pull this off! With the likes of Nina Ricci and Louis Vuitton also pulling this off something tells me this look will be huge for Spring. My favourite was the makeup look at Victoria Beckham's catwalk.  The shades were toned down and smoked out and it's a look that we could get away with day to day!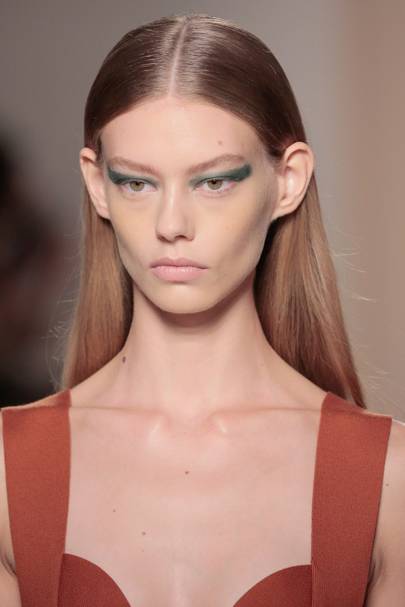 LIPS
Did you guys see the lips at the Fendi show? Well this was by far my favourite (although I don't think I would be able to wear this day to day!) Lips were adorned by chunks of glitter upon glitter and it was a show stopper! I would like to try this look out for an evening event but the lips on the models at Roksanda is what I'll be wearing day to day and this look really stood out for me. Pops of red and pink stood out against a matt skin complexion. To wear this look at its best keep the rest of your makeup simple and let your lips do the talking.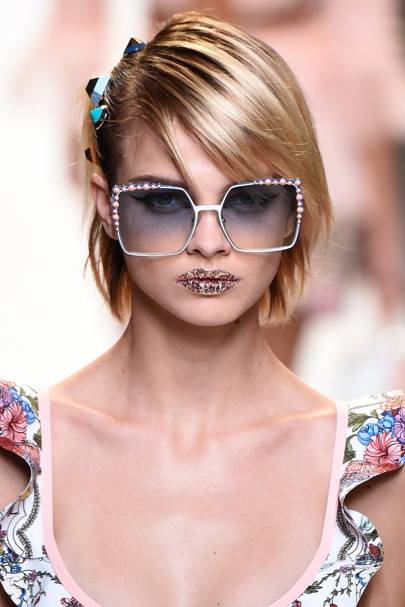 SKIN
With the attention so much on the eyes and lips (remember one or the other and not together!) skin was simple this year. The look was all about a radiant complexion, the athletic kind. To keep the look looking fresh and aglow simply dab a touch of blusher to each cheek and it's really as simple as that! For me David Koma showcased this look brilliantly with all the models showcasing that "I have no makeup look" which is by far my favourite! The key is to look after your skin (here)!
These were the key trends for Spring/Summer 2017 and it's got me all excited over here at Hues of White that it's out with the old and in with the new. I've just done a haul for my new SS17 makeup and below are my favourite picks and some of what I've picked out as part of my SS17 makeup.
From left to right:
1.Estee Lauder- Hyper Teal eyeshadow 
2.YSL Rouge Pur Metallic collection 
4.Laura Mercier- Fantasy Lipstick 
6.Laura Mercier- eye shadow stick 
7.Laura Mercier- Tinted Moisturizer 
9.Laura Mercier- Rose nourishing oil 
10.Surratt Beauty- Lipstick in gold (for those brushed gold lips!)
SHOP THE POST